Across the world from Beijing, to Mumbai, and Vancouver to Florida the demand for luxury homes has been increasing at a staggering rate. Accordingly, the prices of luxury homes has been increasing at an average of about 40% everywhere.
The rich and wealthy from across the world scout for beautiful luxury homes, and do not hesitate to own them no matter where they located. Especially, European, Latin American buyers have shown great interest in luxury real estate properties in US states such as Florida, etc. An estimates put the international transactions in luxury home properties at about 70% in the recent past; in terms of volumes this figure represents close to 10% of the domestic transactions.
Owing a luxury home such as a vacation home, a waterfront home is a symbol of pride and prestige and a lifetime experience for adventure seeking wealthy individuals. It is not surprising that most of these homes are advertised for sale online, as a report by the national association of realtors says that about 43% of the luxury home sales transactions take place online.
However, the United States' luxury homes market is one of the most attractive investment destination for global buyers. Comparatively the low cost of luxury properties, combined with the low cost of living works in favor of US markets. In additional, the flexible regulations governing the purchase of property by foreign buyers encourage more foreigners to look at US as a strong destination for purchasing a luxury home.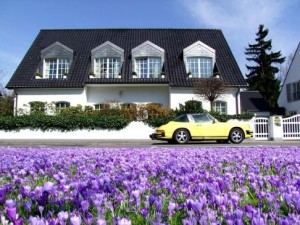 Technology may make is easy for individuals anywhere in the world to buy luxury homes for sale in South Florida or Los Angeles or New York, but finding that right property is no easy task. A luxury property that actually catches your attention, and compels to put its price down from your pocket is a difficult task, not impossible, though.
Whether you are an American or an international buyer seeking a luxury home in the US, the rules almost remain the same with slight variation. Investing in a luxury home is both an emotional as well as a financial investment, and therefore, before you take steps towards buying your dream luxury homes make sure you have the basic information available to you. A list of the basic information required for buying a luxury home is:
Has a Clear Understanding of both your requirements and the buying process: Buying a luxury home is almost like a once in a lifetime opportunity, so make sure you do not regret the decision of having bought a certain property. Have a clear understanding of your requirements, needs in buying such a mega property. In addition, also find out the buying process associated with purchasing a luxury real property.
Location: Understanding the geography, the neighborhoods of the location where the property is located is another important factor. You may want to buy a luxury home in a luxurious neighborhood that offers all the qualities of a lifestyle that you want. If you are looking for a waterfront property, you may want to look areas on the coast, near the ocean, etc.
Financing Options: Finances play an important role in purchasing, or even decide which property to buy. Calculate your finances and know how much money you have with you to put down, and how much can you afford as loan. Shop around for the best mortgage loans, and carefully analyze the financing options, repayment modes, interest calculations, etc.
Resale Value: When investing in a luxury home it is very important to make sure that the value of the property increases over a period of time. Luxury homes is an investment, and you only invest in assets that add more value over a period of time. Buying properties in a peaceful and luxurious neighborhood and maintaining the home in good condition will help you not only recover your investment, but also help you make a decent profit and good returns on your investment on a luxury home.
Patience is a virtue, and with patience you can find a luxury home that is worth every penny, and fulfills your dream of owning a mega-home is the perfect ambience. With a clear understanding of the buying process, your requirements, geography, the location of the property, and getting the complete financial information, you can live in the lap of luxury!